---
See What Washington Consumer's Checkbook Says About Us
Our Wellness Program has received the Washington Consumer's Checkbook
top rating for quality with 93% of customers rating us "superior for overall value for your money". This was higher than any other comparable program within a 75-mile radius.
---
We have received a TON of positive Neighbor-to-Neighbor feedback. Below are just a few of the things customers have to say about Seneca Physical Therapy & Wellness.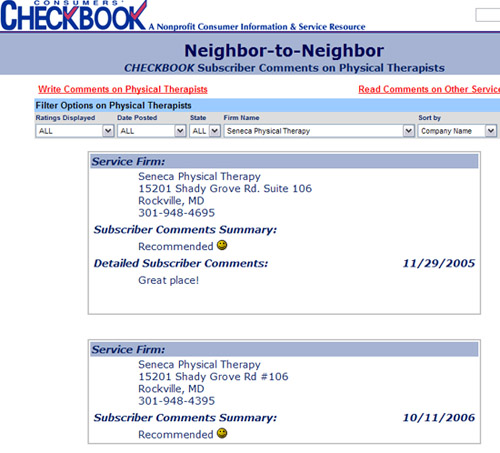 09/09/2007
They've been excellent in their care of my gymnast daughter.
09/12/2007
Combine restorative therapy and wellness programs in a clean, airy, and friendly environment. Very professional therapists (DPTs) and very helpful admins working together.
09/26/2007
Bill Rolle is excellent.
10/15/2004
They are very knowledgeable and have good rapport with the area physicians. They also have a fitness/wellness program, which allows patients to continue to exercise in the same facility after therapy has ended.
06/30/2005
Warm, courteous, professional service. Personnel are extremely good. Work closely to Physician's directions.
09/13/2005
I have been going to Seneca PT for various arthritis problems. They have helped tremendously and I am now in the Wellness Program there.